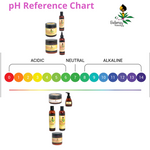 pH (Potential Hydrogen) & My Hair: What does it really mean?
Let's talk pH!
.
pH or potential hydrogen is the degree of acid mantle in the hair and scalp. Acid mantle is the skin's way to protect itself from bacteria, environmental pollutants, and moisture loss. A neutral pH level for the hair is 7.
.
Shampoos with a higher pH (more alkaline) are helpful for removing dirt & killing bacteria. However, the ideal pH of hair and skin is between 4.5 to 5.5 on the pH scale. This is where your hair and skin are the healthiest and the most balanced.
.
Choosing hair products with a lower pH help to keep the hair in balance and these products help to close the cuticles and retain moisture in the hair. .
Our products are formulated to maintain that pH balance and keep your hair moisturized. Oils, humectants, and other moisturizing agents help to seal the hair cuticles for lasting moisture in the hair 🙌🏾🙌🏾🙌🏾 .
This has been our TED Talk!!! 😆💕
.