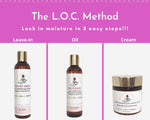 What's the L.O.C./ L.C.O Method? 🧐
.
The process of sealing in moisture by layering products to lock in hydration that lasts over time. 
Moisture comes from water. Anytime you use water on the hair, the hair cuticle responds. Warm water lifts the cuticle allowing moisture in, Hence why steaming the hair or sitting under a hooded dryer helps with deep conditioning the hair. Deep conditioning should happen every wash day! Cool water closes the hair shaft, sealing in any hydrating properties in the hair which is why cool water rinses are recommended for your conditioners.
.
Leave-in: A leave in which uses water as the main ingredient adds moisture to the hair and protects the hair.
.
Oil- Oils are sealants, NOT moisturizers. Oils are beneficial for sealing in moisture as oils lay on top of the hair shaft. They are never fully absorbed into the cuticle. They should be used for sealing and adding shine.
.
Cream- Styling creams are also moisturizers and can range from light to heavy for very dry textures. You want to choose a cream that is water based adding to your moisture regimen.
.
Some textures prefer L.C.O. and many have seen the benefits with this order.
.
Have you tried the L.O.C. or L.C.O Methods?