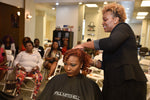 Curls & Cocktails Event Recap 6-11-17
OMG!!! Our first Curls & Cocktails Information Session was absolutely amazing!!! Thanks to all of you that made it out! The goal of the event was to give our customers  a hands on experience with Bellemay Naturals and to provide an intimate setting to share information on the products, tools, and techniques that take your natural hair experience to the next level! I hope that everyone was inspired, motivated, and encouraged about their natural hair journey! It is was my pleasure to serve and there will be more events to come! So make sure you are signed up to our newsletter and follow us on social media to stay updated on what's to come!!! 
Check out some of the photos from the event below! For more photos, click on our social media feed!!